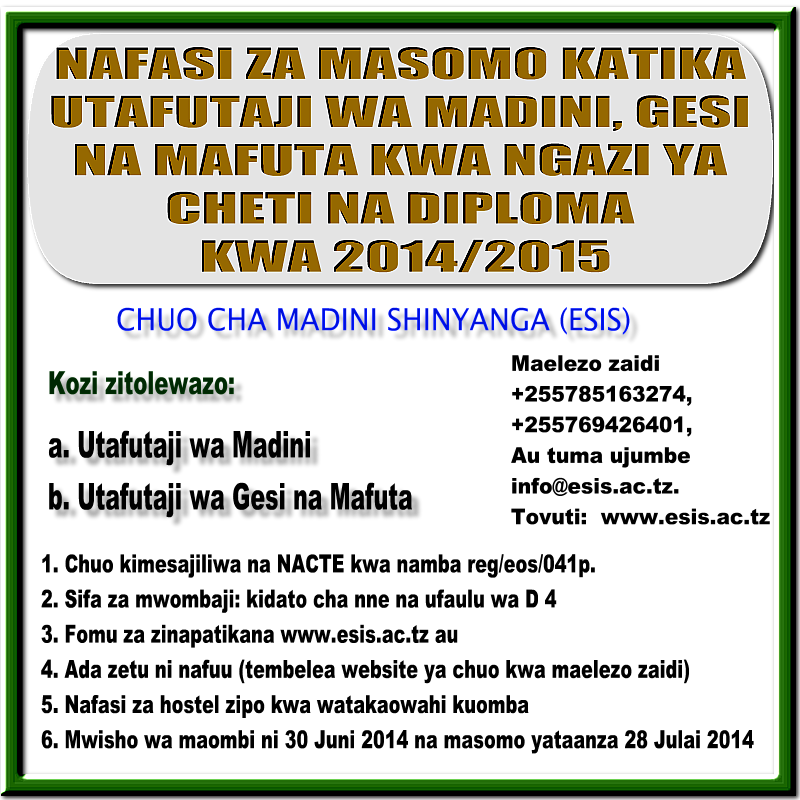 Chuo cha madini Shinyanga kinatangaza nafasi za masomo kwa muhula wa 2014/2015 utakaoanza Agosti 2014 katika ngazi ya cheti na diploma katika fani za:
Utafutaji na Jiolojia ya Uchimbaji wa Madini (CERTIFICATE AND DIPLOMA IN EXPLORATION AND MINING GEOLOGY)
Utafutaji na Jiolojia ya Uchimbaji wa Mafuta na Gesi (CERTIFICATE AND DIPLOMA IN PETROLEUM GEOLOGY)
Chuo kipo ndani ya MGODI WA MWADUI na kimesajiliwa na NACTE kwa namba REG/EOS/041P.
Ada pamoja na malazi kwa mwaka ni Shs. 1,783,000
Fomu za maombi zinapatikana katika ofisi za chuo zilizopo Ndala block HH No.91 Shinyanga  mjini.
Pia fomu zinapatikana katika tovuti yetu ya www.esis.ac.tz
Maombi yanapokelewa kuanzia 1 April 2014 hadi 30 Juni 2014
Kwa maelezo na taratibu fuata kiunganishi hiki: http://esis.ac.tz/application-admission/application-process/
Karibuni nyote
Kuna njia mbili za kuomba
Kwa wale wanaotaka kujaza hapa hapa bofya hapa chini:
Kwa wale wanaotaka kutuma kwa posta pakua hapa downloadable form (Baada ya kupakua, chapisha, jaza na utume kwenye SLP. 1016, Shinyanga.